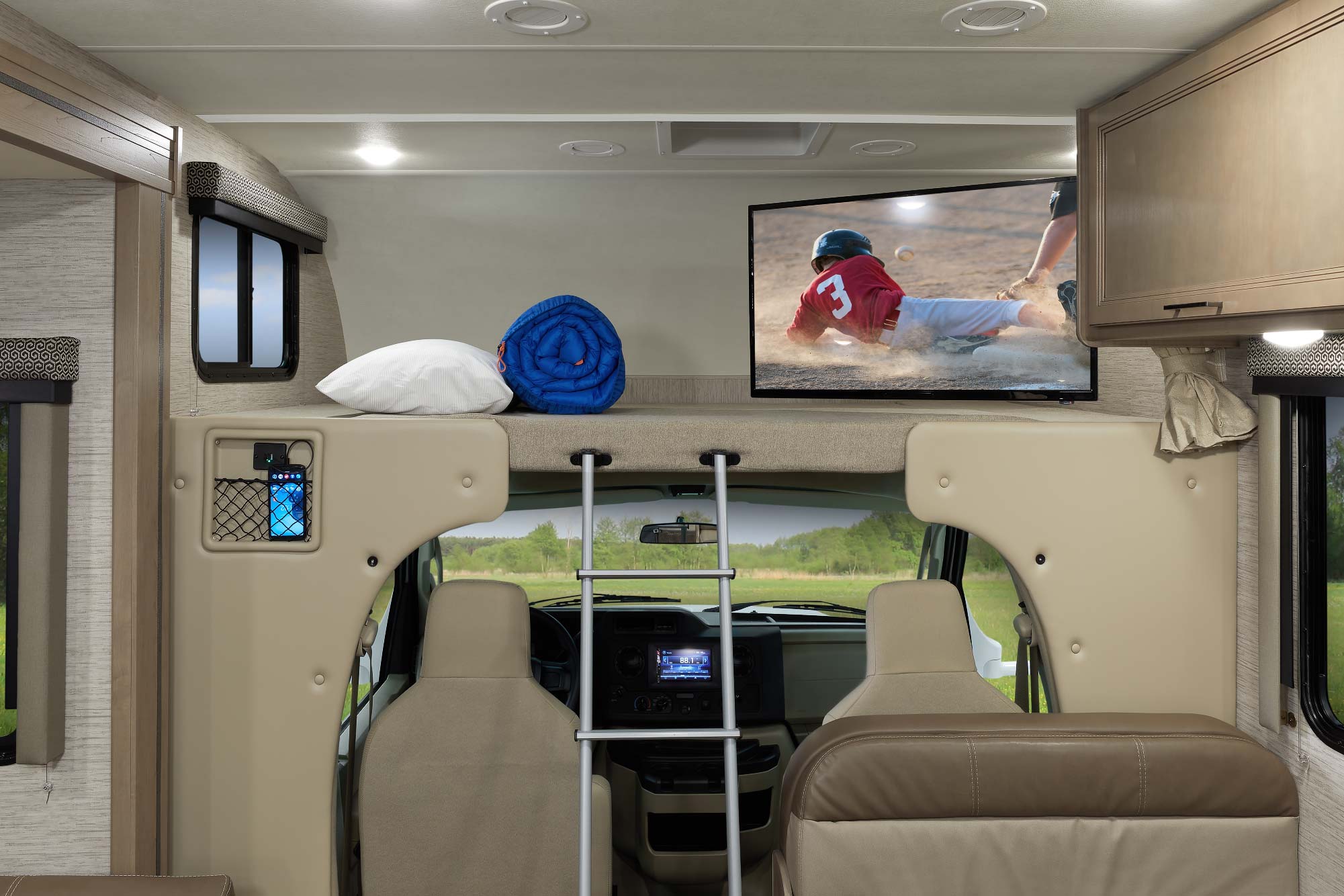 Automotive Features
Your Choice: Ford®, Chevrolet® or Mercedes Benz®
Turn the keys of your Coleman Class C motorhome and get ready for the trip you'll always remember. You have three options on how you'd like to cruise the highways: Ford® E-Series chassis with 7.3L V-8 engine with 350 horsepower and 468 lb.-ft. of torque, Chevrolet® chassis with 6.0L V-8 engine with 323 horsepower and 373 lb.-ft. of torque and if you prefer a diesel engine, the Mercedes-Benz® Sprinter® 3.0L V-6 engine with 188 horsepower and 325 lb.-ft. of torque.
Class C Motorhome Towing Capacity
If you opt-in for the Ford or Chevy chassis, you'll be able to tow your trailer on the 8,000 lb. hitch. If diesel's more your style, you can bring your favorite car on the 5,000 lb. hitch. You'll have a smooth ride with all of your favorite towables and can check on them from the rearview mirror with a back-up camera system. This trip is all about having a good time - no added stress is needed.


Modern Dash
Touchscreen Dash Radio
You can enjoy the plug-and-play mirroring screen on the 7-inch touchscreen dash radio from your favorite device. If you don't want to be in charge of the tunes, you can let the Sirius® tuner and antenna do the work for you. Plus, the living room speaker ties to your dash entertainment center, so you can enjoy your favorite playlist at the campground.
Cockpit Comfortability
Open the keyless entry door to your Coleman Class C motorhome and get ready to enjoy the ride. Sit back and relax on the leatherette captain's chairs and let cruise control do the work for you on those long country roads. In the cup holder, your favorite drink and it's time to break out your favorite road trip snack as you drive comfortably to a fantastic destination.